TINA unmanned print and copy system
Administrators: Ing. Alena Pučková, Zdeněk Michalec
Common address of administrators: spravcetina@victoria.cvut.cz
Print in gray-scale only. You can print from any computer, where the TINA–Oce 3165 printer is installed. If you run Windows XP, you can download the TINA-OCE3165.zip package from https://download.cvut.cz  (insert your username and password), and send your jobs to a network printer.
Your document can be printed out at any of the listed places.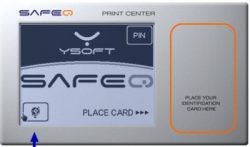 SafeQ Professional Terminal is equipped with a graphical touch display.
1  Touch the globe icon in the left hand bottom corner.
2  Select language.
3  Place your card up to the right part of the terminal.
SafeQ Professional Terminal supports the following SafeQ functions:
Print/Copy
Select a job from your Job List
Delete a job from your Job List
After login you can delete/check your print jobs  at https://tzs.cvut.cz/TZS.
You can print out only the documents that you have sent to a printer when you were logged in. The print is set 2-sided. You cannot print documents sent to a printer by other users. Your jobs are kept in the print queue for 14 days and then are removed.